Explore the ways to donate
Give a Gift of Donation
Purchasing a Gift of Donation* can help provide vital treatments, life-enriching amenities and fun events for the kids of St. Jude. An acknowledgment card that references your symbolic gift of donation choice will be mailed to you.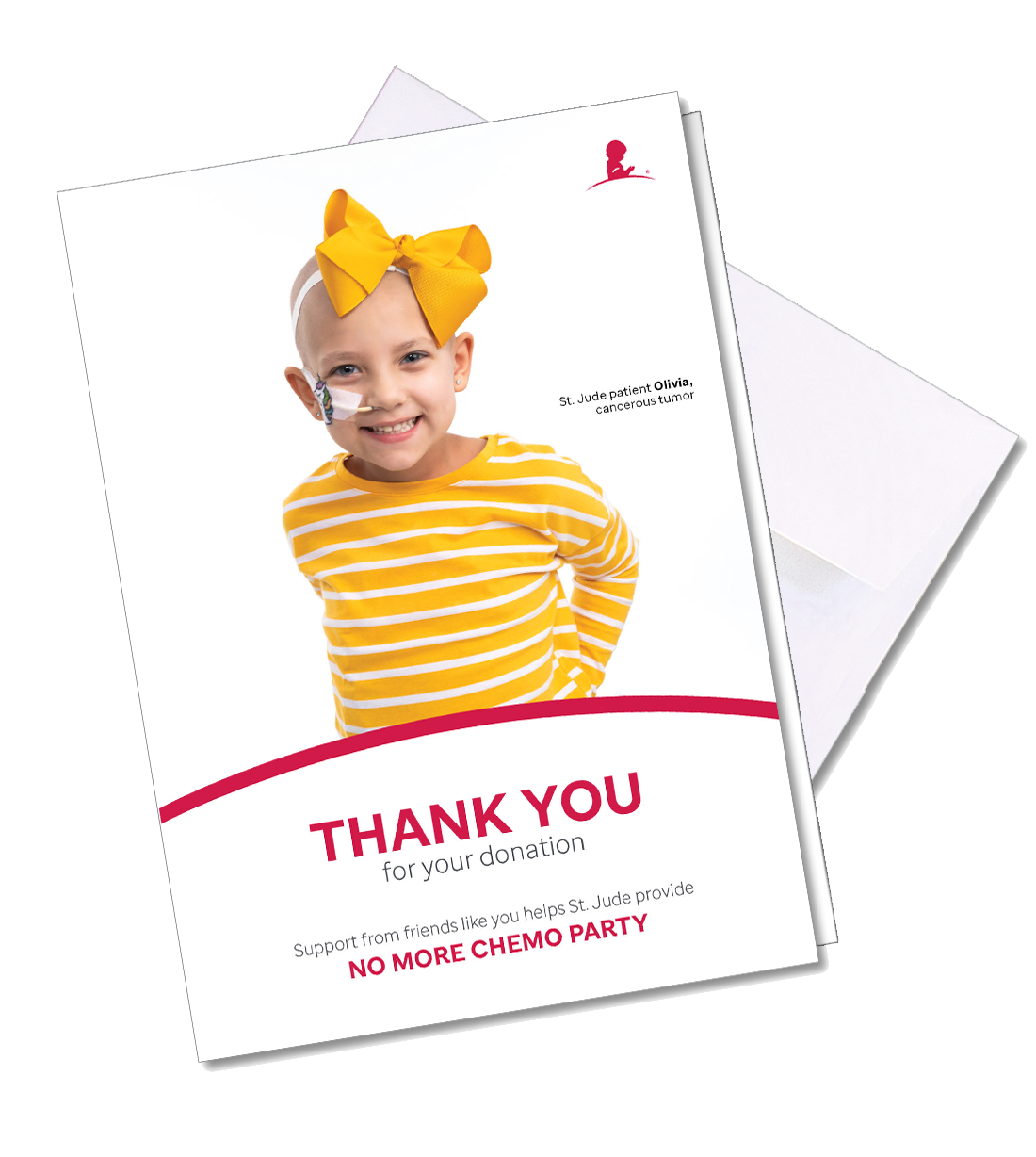 2. Give your card.
Once you receive your card in the mail, keep it for yourself or give it to someone special.

3. Feel good.
Feel good about the life-saving difference you've just made helping the kids of St. Jude.
Previous
Next
How your donation makes an impact

When St. Jude opened in 1962, childhood cancer was considered incurable. Since then, St. Jude has helped push the overall survival rate from 20% to more than 80%, and we won't stop until no child dies from cancer.

Families never receive a bill from St. Jude for treatment, travel, housing or food—so they can focus on helping their child live.

Every child deserves a chance to live their best life and celebrate every moment. When you support St. Jude, you help give kids with cancer around the world that chance. Together, we can save more lives.
Meet
Oaklee
In 2019, baby Oaklee was unresponsive when her mom tried to wake her. She was airlifted to an area hospital for emergency surgery, which removed about 75% of a tumor found in her brain. After being referred to St. Jude, Oaklee began receiving chemotherapy.
"She is the happiest child," said her mom, "and she's just the strongest-willed child that I've ever met in my life."
For solicitation disclosures, please visit our Terms page.
Disclaimer: When you make a donation using this section, your donation will be used to support breakthrough research, treatment and cures. Items listed in this section are representative of services and supplies that are part of the treatment and care of children of St. Jude. The cost of each item or service is an approximation and will vary based on actual costs incurred and individual patient needs. Your donations will be used to support the general operating expenses of St. Jude. Thanks to generous supporters, families never receive a bill from St. Jude for treatment, travel, housing or food —because all a family should worry about is helping their child live.